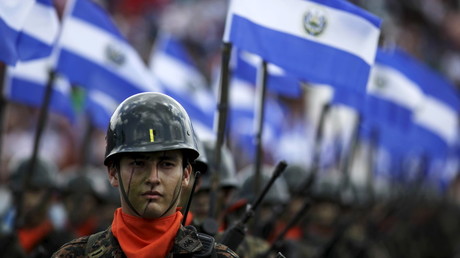 El Salvador's government has formally protested President Donald Trump's alleged remarks about immigrants from "s***hole countries" and demanded Washington's respect for its "noble and courageous people." Read Full Article at RT.com...
9 Published By -
RT - Daily news
- 2018.01.12. 20:51
Related News
New In Last Hour
U.S. Homeland Security chief: Deporting 'Dreamers' not top priority The Hindu (Today) - Ms. Nielsen's comments come as Mr. Trump and lawmakers battle over an immigration deal that has blown up amid Trump's controversial remarks at a recent White House meeting....
In the last 2 hours
Trump Aides Debate Which Version of Vulgarity Trump Uttered U.S. News - News (Today) - Aides to President Donald Trump debate behind closed door whether vulgar term he used ended with 'hole' or 'house.'....
Zambia Responds to Trump's 'Sh*thole' Insult with Hilarious Tourism Ad AlterNet.org (Today) - The rest of the world is quite literally laughing at us.Trump's 'Shithole' Comments Inspire Zambia Tourism AdA prominent Zambia tourism website appears to have been inspired by President Donald Trump,...
El Salvador urges Qatar to employ nationals facing US... Daily MailOnline (Today) - El Salvador wants some of its 200,000 nationals facing potential deportation from the United States to be recruited by Qatar, the central American country's......
Older News
Pastor condemns Donald Trump's 's***hole' rant Daily MailOnline (Today) - Maurice Watson, pastor of Metropolitan Baptist Church in Largo, called the reported remark 'ugly' and said: 'Whoever made such a statement is wrong and they ought to be held accountable.'...
Pastor denounces Trump's remarks with Pence at church USATODAY - News Top Stories (Today) - Pastor at Metropolitan Baptist Church called immigration remarks attributed to the president "hurtful" and "dehumanizing."       ...
'Is whistleblowing worth prison or a life in exile?': Edward Snowden talks to Daniel Ellsberg Network Front | The Guardian (Today) - The two most famous whistleblowers in modern history discuss Steven Spielberg's new film, The Post, about Ellsberg's leaking of the Pentagon Papers, the personal cost of what they did –...
GOP senators lie to cover Trump's racist remarks msnbc.com (Today) - President Trump is now blaming Democratic Sen. Dick Durbin for blowing a possible immigration deal and raising the risk of a government shutdown. The panel discusses how 'Dicky' Durbin 'blew...
Nigeria:#Shithole - Nigerian Govt Summons U.S. Ambassador Over Trump's Remarks AllAfrica News (Today) - [Premium Times] The Nigerian government on Monday summoned U.S. Ambassador to Nigeria, Stuart Symington, to explain reported remarks by President Donald Trump describing Africa, Haiti and El-Salvador as "shithole."...
Africa:Trump's 'Shithole' Remark Slammed at Martin Luther King Rallies AllAfrica News (Today) - [VOA] Atlanta - Martin Luther King Jr.'s children and the pastor of an Atlanta church where he preached decried disparaging remarks President Donald Trump is said to have made about...
WATCH: Trump pushes back: 'No, I'm not a racist' ABC News: Politics (Today) - After days of controversy, the president explicitly denied making racially charged remarks during a meeting...
'Rally Against Racism' crowd demands Utah politicians speak out against Trump's 's---hole' remark The Salt Lake Tribune (Today) -
Sneeze blows hole in man's throat Daily MailOnline (Yesterday) - A British man has blown a hole in his throat after trying to hold in a sneeze, with doctors saying his grim story should act as a warning to others.The...
Sen. Durbin stands by comments on Trump "Sh*thole" remarks Politics - CBSNews.com (Yesterday) - When asked if he regrets revealing Trump's comments, Sen. Dick Durbin responded, "No, I don't"...
Martin Luther King's children condemn Trump for 's***hole' remarks Deutsche Welle (Yesterday) - Martin Luther King Day has been marked by ongoing criticisms of Donald Trump alleged comments about African countries. Protests broke out between Haitians and Trump supporters close to the president's...
Md. Pastor Denounces Trump Remarks With Pence In Pew CBS Baltimore (Yesterday) - With Vice President Mike Pence sitting in the pews, a Maryland pastor denounced President Donald Trump's vulgar description of African nations....
Trump: 'Dicky Durbin totally misrepresented what was said' at DACA meeting Fox News Politics (Yesterday) - In the face of ongoing backlash against President Trump's reported "s---hole" comments during a bipartisan meeting on immigration last week, the president came out swinging on Monday afternoon by blasting...
The White House's shifting narrative on Trump's 's---hole' comment ABC News: Politics (Yesterday) - Going from non-denials to denials....
Trump goes after 'Dicky Durbin' over 's***hole' claim Daily MailOnline (Yesterday) - Sen. Richard Durbin of Illinois says he stands by 'every word' he said about President Trump's explosive in the Oval Office – amid a dispute about whether Trump said 's***house'...
Trump says he's "not a racist" Politics - CBSNews.com (Yesterday) - The immigration debate in Congress is stalled after President Trump's reported use of a vulgarity to describe Haiti, El Salvador and some African nations. On Sunday the president denied he's...